Education & Awareness Resources
The content and resources below are designed for the Michigan Medicine community, but should be considered in addition to all of the other cybersecurity information on Safe Computing.
Simulated Phishing Exercises
[All Michigan Medicine]
Simulated Phishing Exercises are fake phishing attempts, designed by our Cybersecurity teams, and used to actively engage and educate Michigan Medicine staff* on phishing identification and reporting. 
Michigan Medicine executes one simulated phishing campaign each month on a rotational, audience-specific schedule.
See more information on Simulated Phishing at Michigan Medicine.
*U-M Campus does not currently participate in Simulated Phishing.
IA:MM SharePoint Site
[Trusted Service Providers - IT Professionals - IT Liaisons]
The IA:MM SharePoint Site is designed to address the most frequent and relevant questions posed by our Michigan Medicine partners, and present them in a more digestible, transparent manner.
We encourage you and your Michigan Medicine IT staff to use the site and offer feedback on its usefulness. Content and updates will be reviewed/implemented bi-annually.
Additional Trusted Service Provider - IT Professional Content
Additional Content
Review in 2
Two minutes is all it takes to brush up on Review in 2 cybersecurity topics. Below is a link to the current month's topic.
June 2023
PERSONALLY IDENTIFIABLE INFORMATION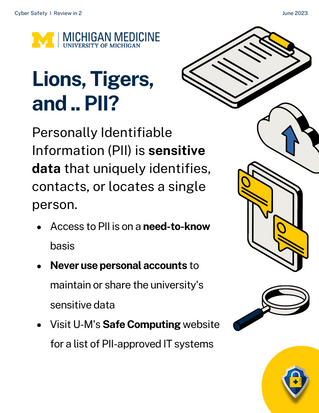 Review in 2 Archive: 2023 Flyers
Videos
IA Cornerstone Learning Modules
IA:MM General Information