Welcome to the Michigan Medicine Information Assurance resource page for education and awareness.
Follow the tips and suggestions in the materials below to ensure you're up to date on what it takes to keep you and all of Michigan Medicine—and its data—safe from cybersecurity threats. While these resources are designed for members of the Michigan Medicine community, others may also find them helpful.
Note: Many of the linked documents below are stored in Google docs. You may need to log in with your Level-1 password to view them.
Contents
Review in 2
Two minutes is all it takes to brush up on Review in 2 cybersecurity topics. Below is a link to the current month's topic.
September 2020
Check URLS Before Clicking!
If it seems suspicious, don't click it!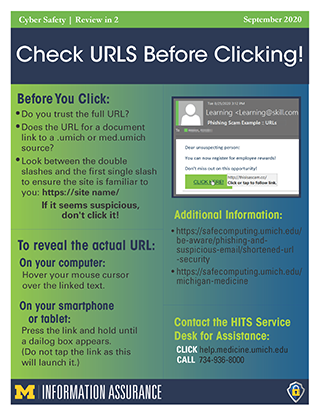 Review in 2 Archive: 2019–2020
Videos
Michigan Medicine IT Service Providers
Cybersecurity Risk Decision Request Tip Sheet
Cybersecurity Risk Decision Presentation Slide Deck
Michigan Medicine Investment Assurance Request Presentation Slide Deck
IA:MM General Information
Cybersecurity Risk Management Overview
National Cyber Security Awareness Month
Under Construction – Materials to be posted soon.
Presentations
Under Construction – Materials to be posted soon.