Welcome to the Michigan Medicine Information Assurance resource page for education and awareness.
Follow the tips and suggestions in the materials below to ensure you're up to date on what it takes to keep you and all of Michigan Medicine—and its data—safe from cybersecurity threats. While these resources are designed for members of the Michigan Medicine community, others may also find them helpful.
Note: Many of the linked documents below are stored in Google docs. You may need to log in with your Level-1 password to view them.
Contents
Review in 2
Two minutes is all it takes to brush up on Review in 2 cybersecurity topics. Below is a link to the current month's topic.
October 2021
National Cybersecurity Awareness Month
DO YOUR PART. #BECYBERSMART!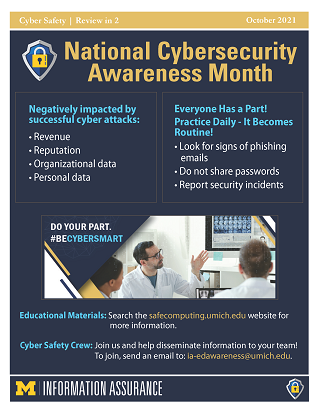 Review in 2 Archive: 2019–2021
Videos
IA MLearning Modules
IA-10004 LastPass Password Manager Basics
IA-10005 Phishing Category Game
IA-10006 Cyber Safety Best Practices Module 1: Hackers, Malware, and Phishing:
IA-10007 Cyber Safety Best Practices - Module 2: Password Safety:
IA-10008 Cyber Safety Best Practices - Module 3: Technical Support Scams and Social Media:
IA-10009 Cyber Safety Best Practices - Module 4: Protecting Data:
Michigan Medicine IT Service Providers
Trusted IT Service Provider Presentation Slide Deck
Cybersecurity Risk Decision Request Tip Sheet
Cybersecurity Risk Decision Presentation Slide Deck
Michigan Medicine Investment Assurance Request Presentation Slide Deck
Medical Device Risk Team 101 Information Document
Cybersecurity Control Assessment Presentation Slide Deck
Cybersecurity Control Assessment Tip Sheet
Risk Management High Level Process
Vulnerability Response Overview
Vulnerability Response Step By Step Process
IA:MM General Information
National Cyber Security Awareness Month
Presentations
Under Construction – Materials to be posted soon.