U-M students, faculty, and staff are required to enroll a device in Duo two-factor when they create their U-M uniqnames and passwords. Two-factor means that when you log in, you provide two proofs of your identity. At U-M, that means your password plus Duo. Alumni may choose to keep using or add Duo two-factor to protect their U-M accounts.
New! 
The Duo Mobile app has been redesigned and is available in both the Google Play store and the App Store. The apps will automatically update between October 11 – 15 for Android users, and October 11 – 18 for iOS users. If auto-updates are not enabled, you may need to update the Duo Mobile app manually.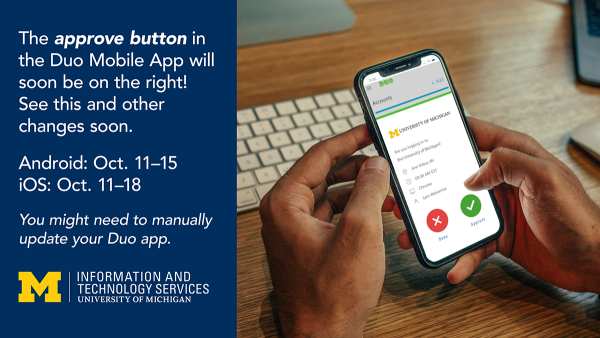 Get Started Now
Choose a Duo option. Most people choose the Duo Mobile app on their smartphone. See Options for Two-Factor Authentication for descriptions of each option.
Go to UMICH Account Management, log in, and click Manage Two-Factor for Weblogin to enroll your first device. Click Manage Duo Devices or Add a Duo Hardware Token or Yubikey to enroll additional devices.
Once you are set up, you'll use Duo when you log in to services via Weblogin, and your UMICH account will be better protected.